BRONCO POP POPCORN MACHINE
This attractive Bronco Popcorn machine will be a hit at your next event or fundraiser. Its red dome and anodized aluminum cabinet with silver popcorn bucket and savory smells will grab everyone's attention as they walk by.
Produces approximately 145 1 oz. bags per hour

8 oz. E-Z Clean Kettle

1150 Watts, 9.6 Amps

20″W x 20″D x 40″H

52 lbs.
RENTAL PRICE:
$75.00 (for Machine Only)
Popcorn Packets W/Butter $1.75 ea. (1 Bag Serves 8)
Popcorn Bags $4.99 (per 100)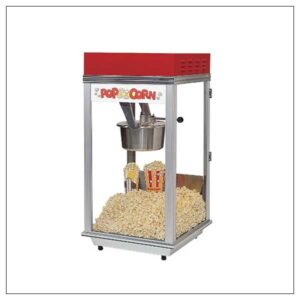 COTTON CANDY MACHINE
Birthday parties, carnivals, graduation parties, family reunions, or fundraisers are all perfect locations for this cotton candy machine. With this great machine your guests will be provided with a fun snack at your event. It's easy to use operating system can plug in anywhere, the non-metallic floss bowl containing a whirlgrip attaches to the interior of the bowl allowing the floss to adhere better to a cotton candy wand. The solid state heat control, high capacity spinner head and cool running operation it makes it easier. Having this cotton candy machine at your next party or fundraiser becomes a fun-filled success.
Machine: 21″W x 25″H x 15″D

Tray: 26″W x 18″D x 1″H

1320 watts (3-prong plug)
37 lbs.
RENTAL PRICE:
$65.00 (for Machine Only)

Cotton Candy Floss (Half Gallon-Serves 50) $9.95

Flavors: Boo Berry, Cherry, Jolly Berry, Leapin Lime, Orange
Cotton Candy Cones $5.00 (per 100)
Cotton Candy Bags $9.95 (per 100)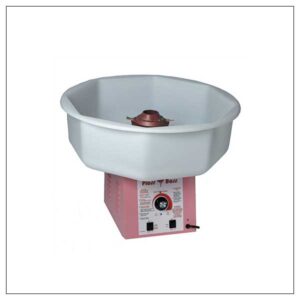 STEAMIN' DEMON' HOT DOG STEAMER
A hot dog stand is a great way to have a fundraiser at an event. And with our Steamin' Demon" Hot Dog Steamer we can make that happen for you. This convenient and easy to use hot dog steamer will keep your hot dogs warm throughout the day, while keeping the buns in its stainless steel bun basket ready for your next customer. And with the easy to use drainage system this makes your fundraiser one of the simplest ones ever.
Hot Dog Capacity: 80-90
Bun Capacity: 30-40
16.5″D x 18″W x 16″H
Includes: Stainless steel hot dog and bun baskets, partitions, steam baffle, juice catch pan, and plastic tongs
Hot dog juice tray located at the bottom interior
Drain spout located at exterior front right of machine for quick drainage
Easy to clean
Stainless Steel cabinet interior/exterior and lids
No painted parts
120 Volt/15 Amp/single-phase outlet; requires a dedicated line with no other appliances on the same circuit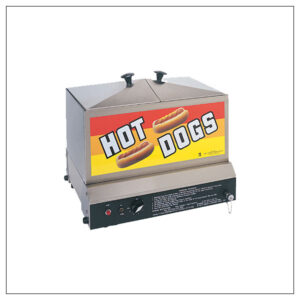 SNO CONE MACHINE
The Deluxe Sno-Konette is the ice shaver of choice for fundraisers, school and church carnivals, public park and recreation districts. Kids love shaved ice and this machine will draw attention bringing you profits without extensive selling efforts.
RENTAL PRICE:
$65.00 (for Machine Only)
Simple, easy and safe to operate

Capacity 300 lbs. – 500 lbs. of ice per hour

Attractive stainless steel dome with illuminated sign

Accessories: Sno-Kone dipper, 6 oz. cup dispenser, ice scoop w/drain pan

Stainless steel blades

Operates on a 120 Volt, 15 Amp, single-phase, 60 cycle AC current

22″W x 16″D x 18″H (56cm x 41cm x 46 cm)

(39 1/2″ [100 cm] with pusher handle "up")

816 watts, 6.8 amps, 120 volts

87 lbs.