STAGING
Many occasions call for a stage rental, from wedding receptions, graduations and promotional events to concerts, and dramatic presentations. At your event we can create any type or size of stage by fastening the Roto-locks on our 4' x 4' section decking. This forms integration between decking. With this feature we can create a small, medium, or large stage, runway stage, or platform, and once the stairs and/or ramp are securely attached to your stage you will be ready for your "main stage" event.
4' x 4' standard section
¾" thick deck
11ply exterior plywood finished on both sides
Roto-Locks for securely fastening decking
Stairs and ramp are available (additional cost)
Skirting is available (additional costs)
RENTAL PRICE (per 4'x4' section): $47.50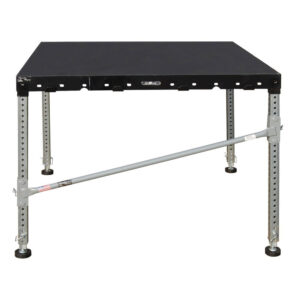 STAGING STAIRS
With every stage rental, staging stairs are essential. Utilizing the securely attached stairs makes allows for a safe entrance and exit of the stage area. With these safe, sturdy, metal stairs you will feel comfortable and assured everyone's approach to the stage. So when renting a stage be sure to add your staging stairs!
Durable steel Stairs
Fits all heights of stages
Railing is included
Each stair has a non-slip tread covering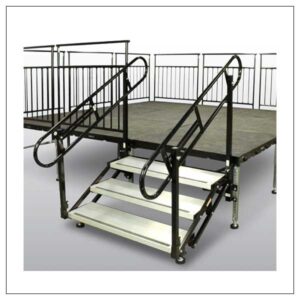 EVENT DECKING
Preseves grass and protects sub floors
Regged and durable
effective in all weather and termperature conditions
1.5 square foot sections
RENTAL PRICE: $2.50 / Square Foot Section
| | | |
| --- | --- | --- |
| Number of Guests | Recommended Size | Total Square Feet |
| 16 | 10′ x 10′ | 100 |
| 24 | 12′ x 12′ | 144 |
| 28 | 12′ x 14′ | 168 |
| 32 | 14′ x 14′ | 196 |
| 42 | 16′ x 16′ | 256 |
| 54 | 18′ x 18′ | 324 |
| 60 | 18′ x 20′ | 360 |
| 66 | 20′ x 20′ | 400 |
| 72 | 18′ x 24′ | 432 |
| 88 | 22′ x 24′ | 528 |
| 104 | 24′ x 26′ | 624 |
| 150 | 30′ x 30′ | 900 |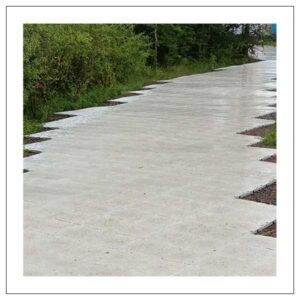 INDOOR DANCE FLOOR
Our indoor dance floor is great for going over carpeting or cement turning the space into a flat, smooth surface for your guests to dance on. Comes in various sizes depending on the number of guests you are expecting:
RENTAL PRICE: $2.00 / Square Foot Section
| | | |
| --- | --- | --- |
| Number of Guests | Recommended Size | Total Square Feet |
| 16 | 10′ x 10′ | 100 |
| 24 | 12′ x 12′ | 144 |
| 28 | 12′ x 14′ | 168 |
| 32 | 14′ x 14′ | 196 |
| 42 | 16′ x 16′ | 256 |
| 54 | 18′ x 18′ | 324 |
| 60 | 18′ x 20′ | 360 |
| 66 | 20′ x 20′ | 400 |
| 72 | 18′ x 24′ | 432 |
| 88 | 22′ x 24′ | 528 |
| 104 | 24′ x 26′ | 624 |
| 150 | 30′ x 30′ | 900 |